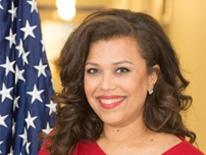 Deputy Director, Office of Policy and Legislative Affairs
Prior to joining Mayor Bowser's Office of Policy and Legislative Affairs, Gianelle Rivera served in the Obama Administration as a Policy Advisor in the US General Services Administration's (GSA's) Office of Congressional & Intergovernmental Affairs. At GSA, Ms. Rivera worked on a number of policy issues primarily focused on technology, cybersecurity, digital services, and innovation. As Policy Advisor she served as liaison between GSA and Congressional offices, preparing and executing briefings, coaching and preparing witnesses for hearings, tracking relevant legislation, and working with authorizing committees on technology legislation. Additionally, Ms. Rivera was GSA's representative to the White House Council on Women & Girls' Interagency Working Group on Advancing Equity and Empowerment. As part of that working group, Ms. Rivera worked alongside policy staff from the White House and across federal agencies to ensure that opportunity is available to all women and girls, with a focus on women and girls of color, through the topics of education, economic security, health, criminal and juvenile justice, violence, and technology.
Before joining the Obama Administration, Ms. Rivera worked in the United States Senate for five years focused on legislative policy issues that she is passionate about, such as health care, women's rights, child welfare, education, labor, transportation, budget, and science and technology.
Ms. Rivera, attended college in her home state of Michigan–earning a Bachelor of Arts from Michigan State University.