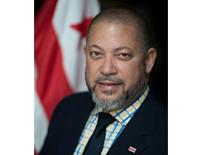 Director, Office of Federal and Regional Affairs
Eugene D. Kinlow serves as the Director of the Office fo Federal and Regional Affairs (OFRA) for the Executive Office of the Mayor.
Prior to joining the Bowser Administration, Mr. Kinlow served as the Senior Strategist for Dragon + Unicorn Strategies, where he facilitated conversations and created community engagement strategies for non-profits and the business community. As the Public Affairs Director for DC Vote, he strengthened relationships with elected officials, community members, and coalition partners in an effort to bring full voting representation to the residents of the District of Columbia. Mr. Kinlow was the former Vice Chairperson of the Consumer Utility Board, and a past member of Pepco's Blue-Ribbon Panel on Reliability.
Mr. Kinlow is a native Washingtonian who resides in the Bellevue section of Far Southwest in Ward 8. He recieved a Bachelor of Science in Business Administration from the University of the DIstrict of Columbia (UDC).